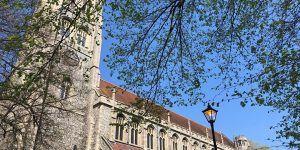 Free Concert in Support of the Work of St Mary's Music Foundation – helping provide young people with musical education and opportunities.
Given by Andrew Hill (Trombone) & Becky Hill (Violin/Viola) and guests, with Brian Moles (piano).
A concert supporting the work of the Music Foundation.
Free admission by ticket only, to book tickets please visit our Eventbrite Page.
This concert will also be lived streamed on the Portsea Parish YouTube channel.